We are a volunteer organization helping people in need just like Laeth used to do. We are a group of people who care enough about others to spend our time, energy, and resources to serve those who need help. We could not sustain this effort without help from many individuals, companies, and churches.
A very special shout-out to one of our dear friends and major supporters who died recently. RIP Mr. Ted Medlin. Ted connected us to the Mid-South Food Bank, he bought us a refrigerator when we needed one. Ted connected us to Helping People God's Way Thrift store where we get blankets,, socks and other items donated to us each week. He got the ovens at the church fixed when they were not working properly. He was constantly giving us ideas and resources to make Team Laeth better and sustainable. We would definitely not be able to do what we do as well as we do it without his awesome support and generosity. He helped many other causes besides Team Laeth. I know he is missed by MANY and will continue to be missed but will remain in our hearts forever. Although he is gone his spirit and legacy of helping others in need lives on in Team Laeth. Thank you Mr. Ted for caring about others and always being a servant to our wonderful God...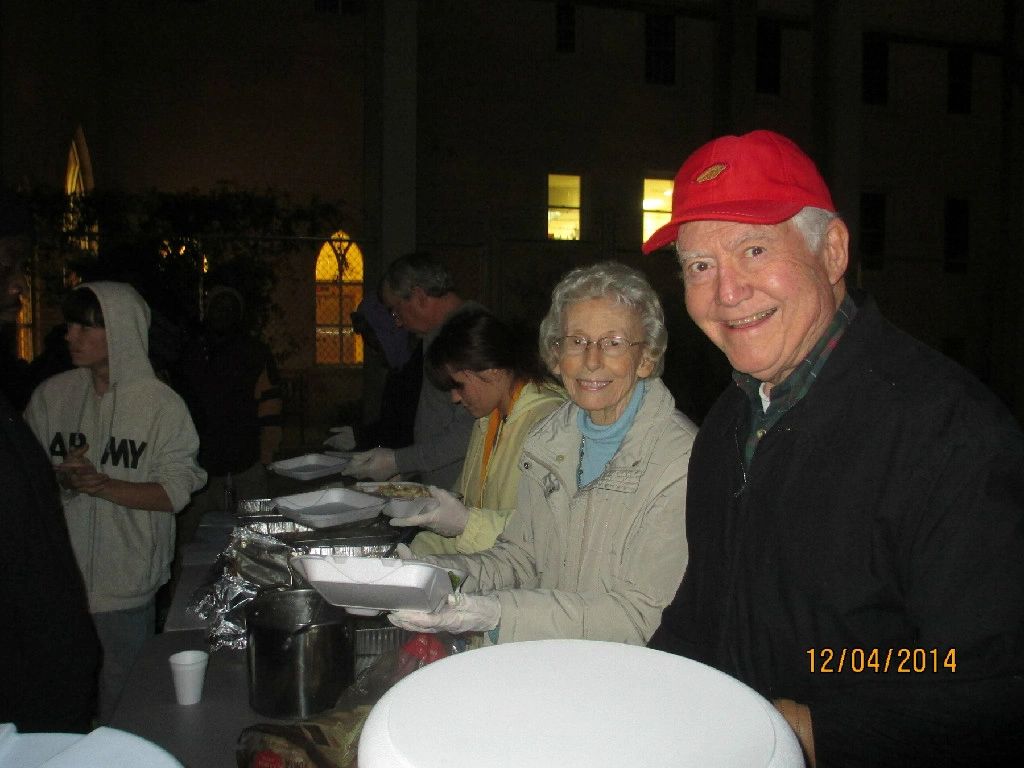 We could not continue helping the homeless and those in need without the complete support of
First United Methodist Church
. They provide us with a place to serve, a room to store supplies, and a kitchen to prepare the meals. The church was the first church in Memphis, TN, not the first Methodist church, but the first church of any kind in Memphis. It was established in 1826 and we are honored to be a part of their tradition of helping those in need. The church sanctuary burned down in 2006. We have been serving our meals on the concrete slab where the sanctuary used to be since Sept 2013. The church is rebuilding the sanctuary (Thanks be to God). The church has blocked off the alley on the other side of the church and they have gotten the city of Memphis to rezone it so we have a place to continue serving our weekly meal for the homeless and hungry in downtown Memphis. We are so grateful for the support of the church and the congregation for making a new place for us. This is the true spirit of First United Methodist Church. The current church rebuilding budget does not include money for improvements to the alley where we now serve. We would like to have gates at each end of the alley and an awning to protect us from the sun and the rain. Anyone willing and able to contribute to help us can donate to
First United Methodist Church of Memphis
and note the donation is for the Team Laeth alley. The church will use it to finish off the gates and awning. No donations are too small and all donations are tax deductible. Any donations will be greatly appreciated by the church, Team Laeth, and those in need that come for a great meal and other items each week.
We also receive weekly grocery and bread donations from
Costco
and
Panera Bread
through their generous contributions to
First United Methodist Church
and
Jacob's Well
. The support we receive is critical to the success we have helping others. Both
Costco
and
Panera
get a big shout out for their generosity and giving to those in need.
We are an agency of the
Mid South Food Bank
in Memphis. This allows us to purchase selected food and supplies each week for a small fraction of the normal cost. This makes us able to serve more and better meals than we have previously been able to provide. We are VERY grateful for their partnership. It greatly benefits our friends on the street and those in need. This partnership would not be possible without the sponsorship of
First United Methodist Church
, we appreciate their continued support helping those in need through Team Laeth.
We receive weekly bread and pastry donations from
Café Eclectic
. This is a local Memphis restaurant that serves great food. They donate pastry items each Thursday for our Team Laeth meal.
We receive support through food donations and volunteers from
Christ United Methodist Church
. We thank them for their continued support.
We have received many donations from a great thrift store in Cordova, TN called
Helping People God's Way
. They have donated coats and blankets for our friends on the street in the winter. There is a need for blankets all year round. Blankets get wet when it rains and stolen when left unattended. They have continued donating blankets even in the summer so that we may pass them out to those on the street. Thanks to this awesome thrift store we are able to regularly provide fresh replacement blankets so those living on the street can have something soft to sleep on. We greatly appreciate their support and recommend the store for those looking for bargains or a place to donate items.
We have worked with a wonderful organization called
Room In The Inn
to help some of our friends find a place to go at night during the cold winter nights. Room In The Inn takes homeless people to local churches to spend the night and get a couple of warm meals during the winter months and they have helped many of our friends. They are always in need of local churches to provide transportation and a place for the night for their program. Please visit their website to inquire about becoming a partner or volunteering.
We can always use supplies such as paper products, canned goods, non-perishable items, vegetables, fruits, drinks, personal care items, bug spray, or any other items that would help our friends on the street and those in need. If you can donate supplies PLEASE contact us.
Get in touch with us through email: contactus@teamlaeth.com